Sarah Saari is the owner and Lead Instructor at Viking Pickleball.  Sarah is a 5.0+ Pickleball Player and is a Certified Instructor.   She is a sponsored player by JOOLA Pickleball, Gulf Sole Shoes, Erik Dunigan Realtor Group and PB1965.  Before Pickleball, Sarah spent years in the classroom teaching Physical Education and coaching/organizing sports programs.  Originally from Minnesota, she migrated to Florida after experiencing Pickleball while staying in a RV park.  Sarah credits her friend Linda Marasco for introducing her to the sport.
Sarah has been teaching Pickleball for 5+ years.  She has helped grow the Pickleball Community in Southwest Florida with the services Viking Pickleball now offers.  Sarah also leads the Education Program ran by Peace River Picklers, located in Punta Gorda, FL.
Viking Pickleball is based in Englewood, FL.  Camps, Clinics & Lessons are offered @ Tringali Park and within various private communities.
"Viking Pickleball empowers players to achieve their goals and facilities programs to enhance pickleball communities."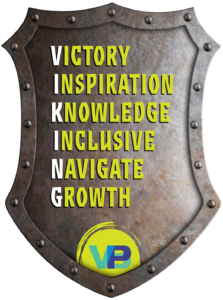 Victory  – experience victories  (small and large) as a player, a partner, and a competitor.
Inspiration – be inspired to build connections with partners and with communities.
Knowledge – learn the best strategies and techniques to play SMART Pickleball.
Inclusive – enjoy a program tailored to all levels, abilities, and ages.
Navigate – VPB will help you navigate your path to success.
Growth – grow yourself, your skills, and your game.